There has been an important update to the calendar in April for New England School. There WILL BE school on Thursday, April 6. Easter vacation will continue to be held on Friday, April 7, and Monday, April 10.

Our FFA Ag Sales and Agronomy Teams traveled to Killdeer for their last competition before state. The Ag Sales team earned a second place finish and the Agronomy team earned a fourth place team finish. Good luck at state in Minot on Monday!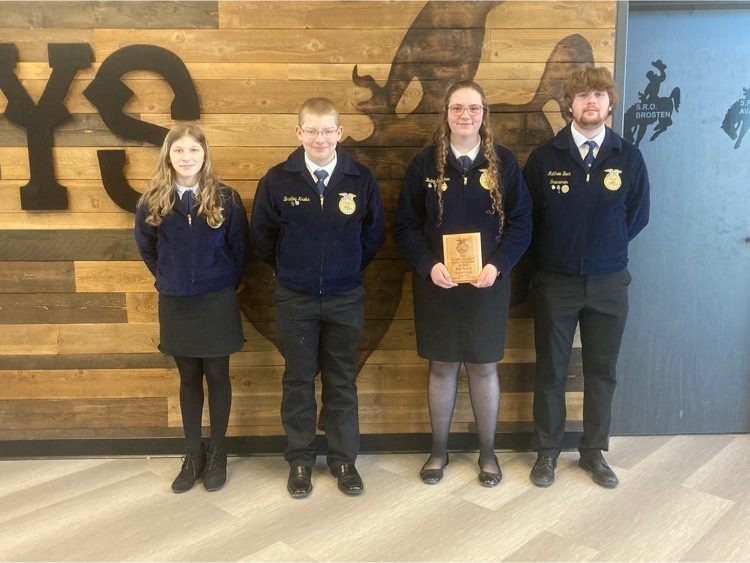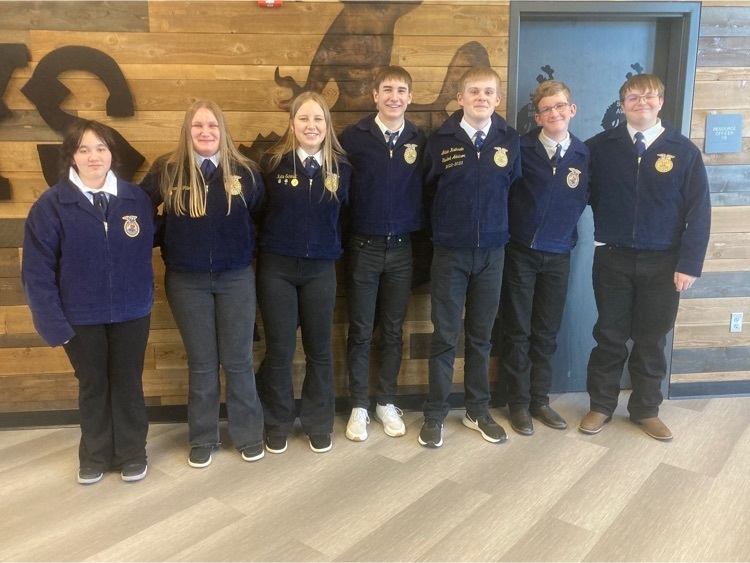 Congratulations to Bradley K, Megan M, and Bianca S!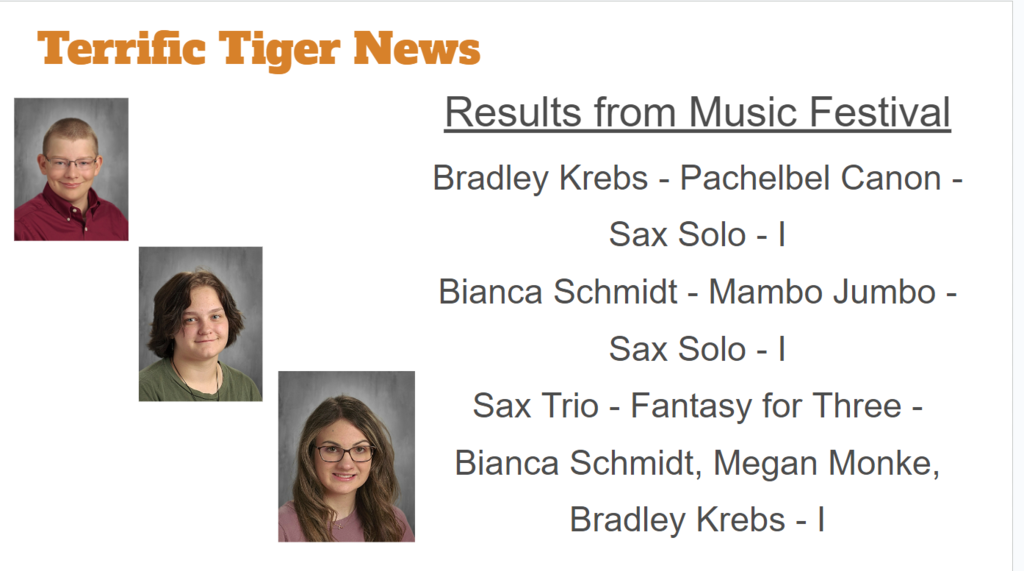 UPDATE to the Book Fair: The Scholastic Book Fair will begin at noon on Wednesday, March 15, and will end at 3:00 p.m. on Thursday, March 23.

Girls in grades 4-5-6 will start volleyball practice on Monday, March 13, after school until 4:30. Please remember your $50 uniform deposit made out to New England Public School.

Missoula Children's Theatre performances for March 11, 2023 have been canceled. Our appreciation goes out to the Booster Club for attempting to offer this opportunity to our students. Let's cross our fingers for next year!

The FFA competition scheduled for tomorrow, March 11, has been cancelled.

New England Public School will have a virtual learning day tomorrow, March 10.

As a reminder, there will be NO SCHOOL on March 15, 16, & 17. ~~~ Beginning at noon and running until 6:00 p.m. on Wednesday, March 15, New England School will be holding Parent-Teacher Conferences. ~~~ Students in Pre-School through Grade 3 will have received assigned times from their classroom teachers. ~~~ Teachers of students in Grades 4-12 will be available in the commons area on a first-come, first-served basis. ~~~ The BOOK FAIR will be a ONE DAY event this year on the same Wednesday as Parent-Teacher Conferences. Stay tuned for further information.

Missoula Children's Theatre rehearsal tonight will likely be over at 5:30 p.m.

Spring Picture Day was today! If you still need to order pictures, please go to mylifetouch.com and use School ID: EVTZFZ472

Come join us at Memorial Hall on Saturday, March 11 at 2 pm and 4 pm for The Frog Prince by our K-6th grade.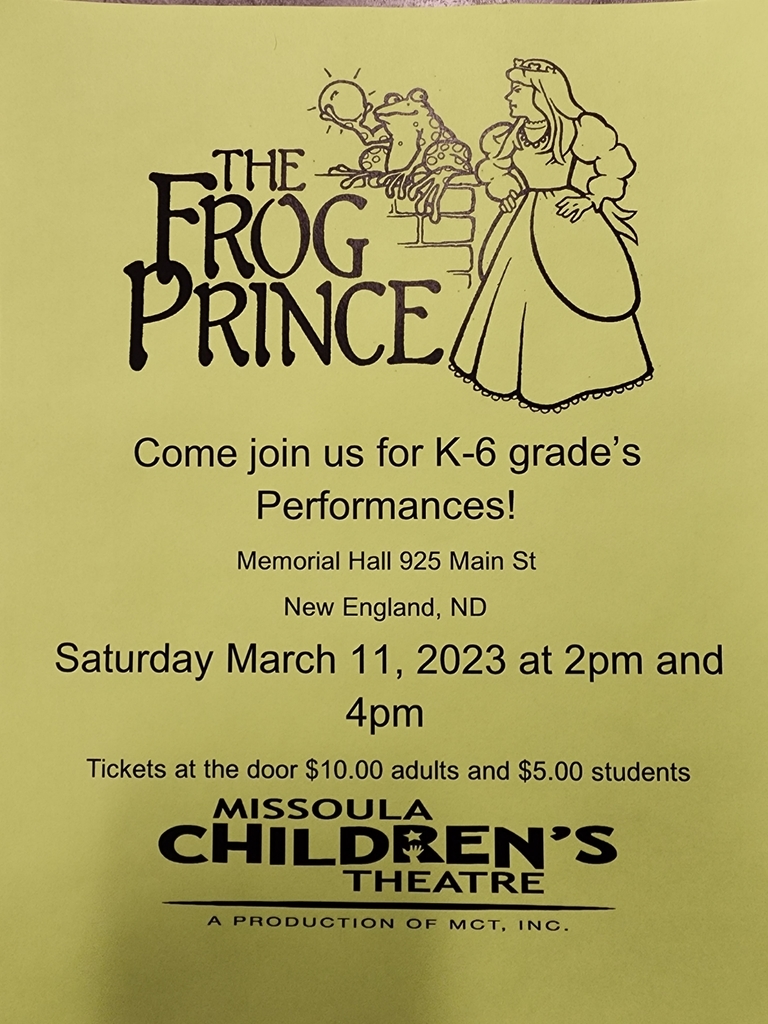 Preschool screening for 3 & 4 year olds. March 29th at St. Mary's. Call NEPS with any questions and to schedule your child's screening! (701) 579-4160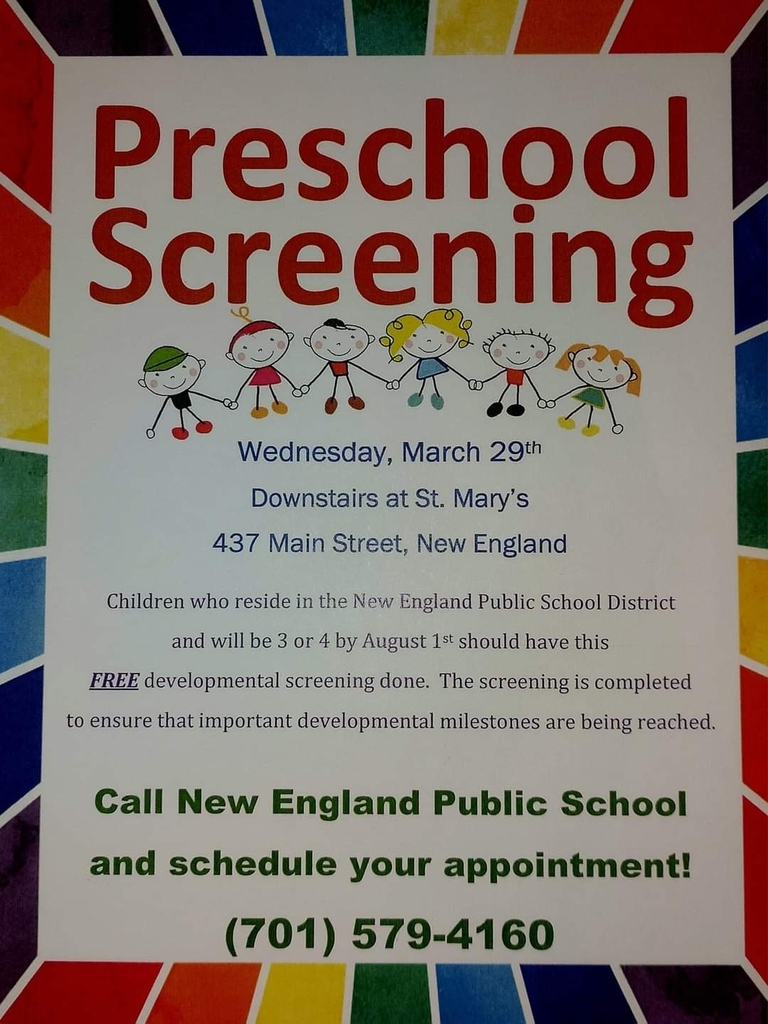 No agronomy practice Tuesday morning. Will have practice Tuesday after school.

Classes at New England School will start at 9:56 a.m. on Monday, March 6. There will be NO BREAKFAST served, so students should arrive no earlier than 9:45 a.m. The school bus drivers will plan their leave times to accommodate that drop off time of 9:45 a.m. accordingly. There will be NO MORNING PRESCHOOL session.

The New England CITY Library will not be having story hour tomorrow (03/04/2023).

We will be sending devices home with students in the event the storm predicted for our area actually occurs and we need to utilize a virtual day. PLEASE ASSUME THAT WE WILL BE having school on Monday UNLESS you receive notification stating otherwise. We hope to see everybody Monday. Have a great weekend!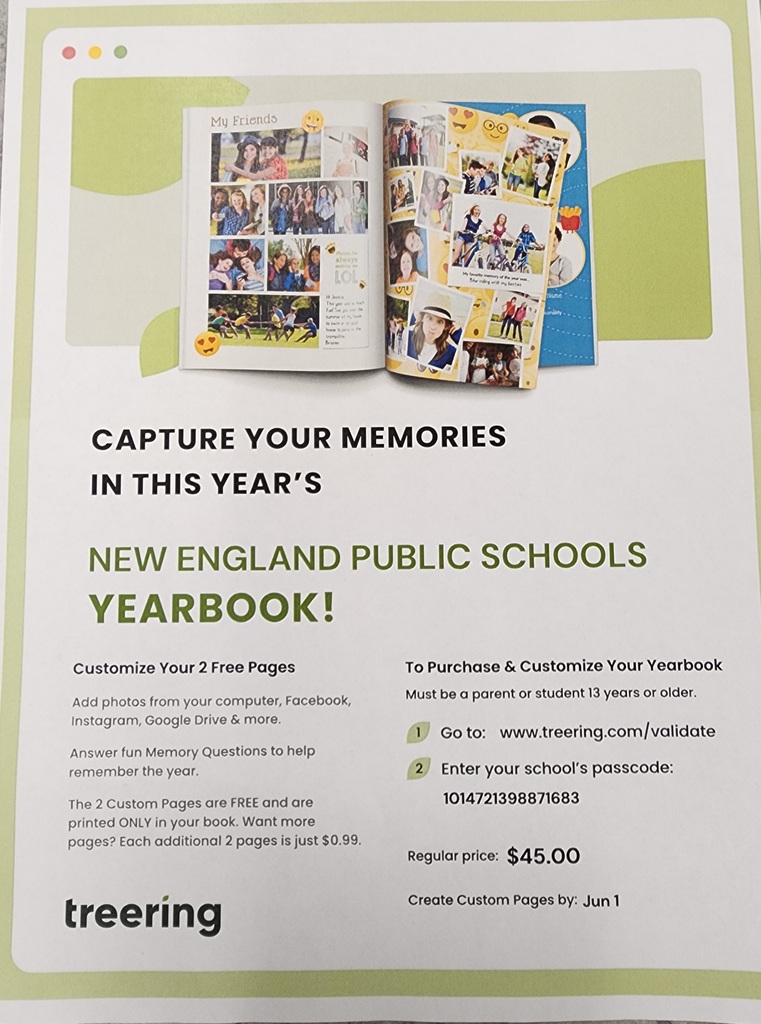 The Pops Concert & Art Show scheduled for this Sunday, March 5, has been POSTPONED to Wednesday, May 17, tentatively at 6:00 p.m. Hopefully by then, we will not have to worry about snow.

Pardon the error in the previous message. Classes will start late tomorrow on March 1.